Second Saturday Night Live
2022
2020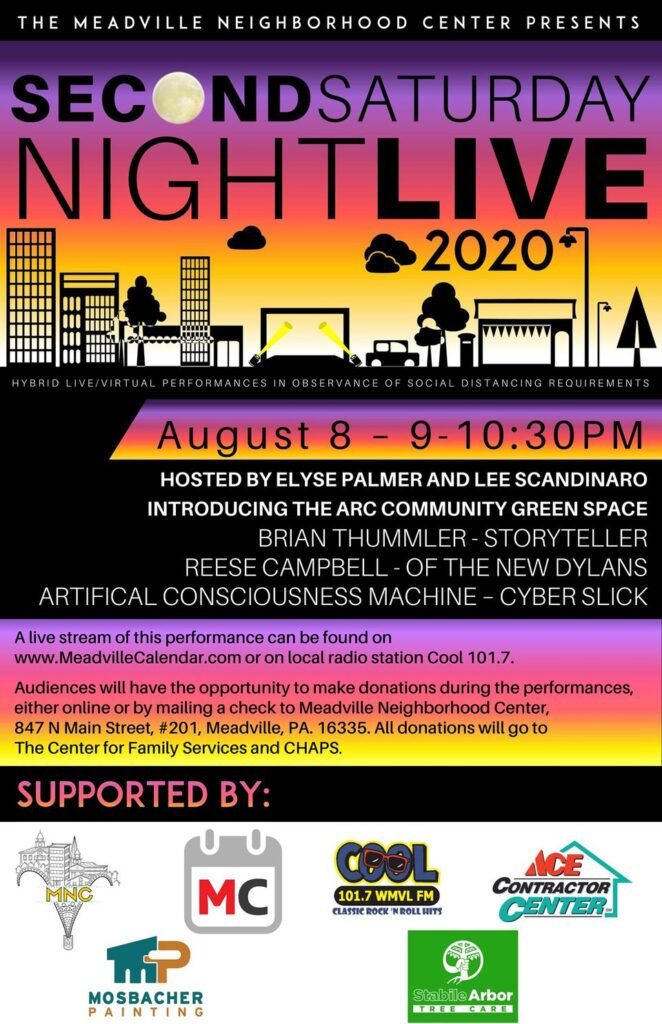 Meadville, PA – Hybrid-Live/virtual performance features music, stories, and The Arc Community Green Space to benefit local charities. The Meadville Neighborhood Center presents Second Saturday Night Live August 8th, 2020 from 9:00-10:30 PM.
This year's attraction is a hybrid-live/virtual performance in observance of social distancing requirements. Your live guides to the event Emcees Elyse Palmer and Lee Scandinaro lead the audience through the show. Storyteller and musician Brian Thummler premiers an original fable followed by the music and stories of musician Reese Campbell of "The New Dylans." The evening concludes with a main stage performance by Youngstown, OH Cyber Slick band "Artificial Consciousness Machine."
A video of the performance can be found live on MeadvilleCalendar.com or audiences can listen to the show live on local radio Cool 101.7. Audiences can donate either online (Link) or by mailing a check to Meadville Neighborhood Center 847 North Main Street Suite #201 Meadville, PA 16335. All donations support the Center for Family Services, Inc. and Crawford County Mental Health Awareness Program (CHAPS); two organizations ensuring the health and safety of our most vulnerable neighbors. This final 2020 Second Saturday Night Live is sponsored by Ace Contractor Center, Stabile Arbor Tree Care, and Mosbacher Painting.
2019 Season
The Meadville Neighborhood Center invites you to extend your Second Saturday experience in Meadville and join us in the Mill Run Parking Lot behind Voodoo Brewery (Arch Street location)! Concerts will be held from May-September, start at 7PM and are FREE! Bring a chair and make yourselves comfortable as we enjoy a wide variety of musical genres from some extremely talented musicians who all have ties to our local community!
June
HelioTrio
FX Project

Sponsored by: ACE Contractor Center
July
Fred Oakman & the Flood
Dave Farzalo & Friends
Sponsored by: The Brockman Agency – Farmer's Insurance
August

MASH Brass Ensemble
Alec Chien & Friends (Quartet)
Sponsored by ONE Federal Credit Union
September

DJ Dance Party
Sound Provided by: Voodoo Brewery
2018 Season
Brandon Shick opening for
House of Rhythm
Sponsored by: Cobblestone Cottage and Bish Automotive
Clever Norman opening for
Max Schang Trio of Blues
Sponsored by: Ace Contractor Center
Justin Gray Music opening for
Bleil Brothers
Sponsored by: Ace Contractor Center
Narwhal Empire
Sponsored by: Downtown Bistro and Amato and Sons Army Navy Store
Wild Country Line Dancers from Saegertown
(The public is welcome to come and join in the line dancing!)
Mayflower Hill
Sponsored by: The Brockman Agency – Farmers Insurance
2017 Season
Join us after the July Second Saturday Community Market for another night of music in downtown Meadville featuring Ramona, Come Closer and First to Eleven. We're also excited to help celebrate Voodoo Brewery's 5 Year Anniversary Party. This event is hosted by the Meadville Neighborhood Center, Second Saturday Community Market, the City of Meadville, and the Meadville Redevelopment Authority and is sponsored by the Brockman Agency representing Farmers Insurance. Bring a chair and some friends, and we'll see you Saturday at the center of town.